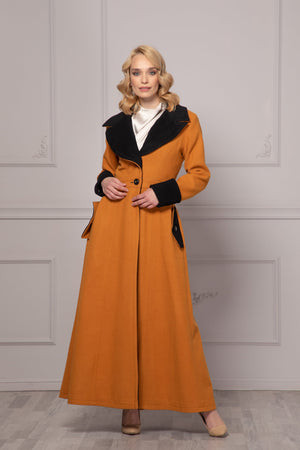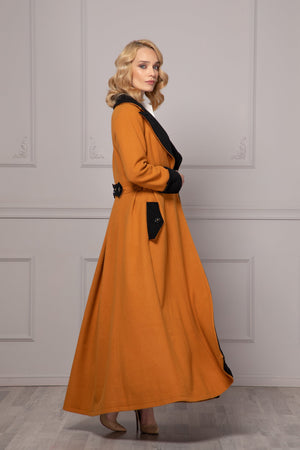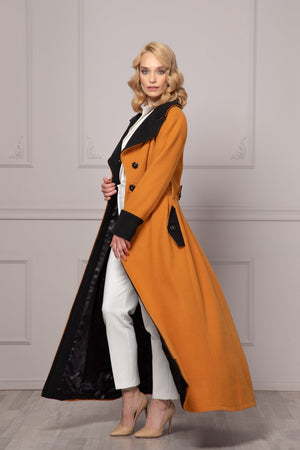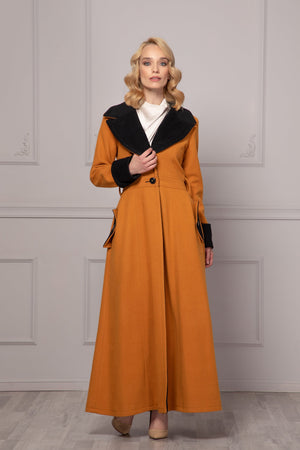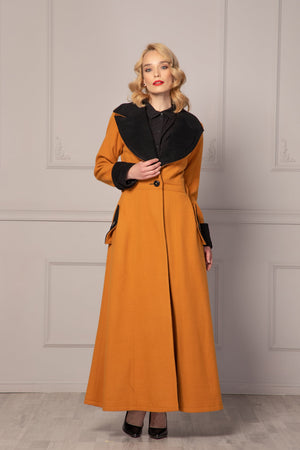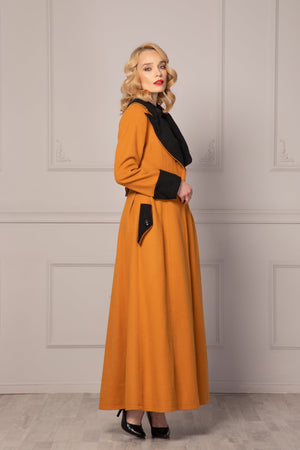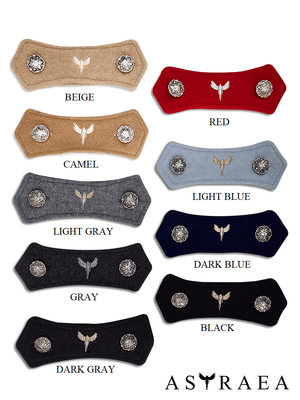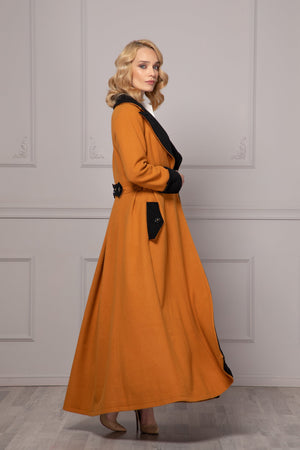 The extraordinary double-colored wide lapel long wool coat with cuffs is a testament to the artistry of fashion design. Crafted from high-quality wool, it seamlessly marries classic elements with contemporary creativity, resulting in a truly exceptional piece.
The most striking feature of this coat is its double-colored design. It juxtaposes two complementary or contrasting colors, creating a captivating visual effect. This bold choice adds depth and dimension to the coat and makes it stand out in any crowd. The blend of colors can range from subtle earth tones for a sophisticated look to vibrant combinations for a more daring statement.
The wide lapels of the coat exude a sense of luxury and refinement. They provide a dramatic frame to the neckline, drawing attention to the wearer's face and adding an element of sophistication.
What truly sets this coat apart are the cuffs. Elaborate and eye-catching, they are often adorned with unique details.
Styling possibilities with this coat are limitless. For a chic urban look, pair it with skinny jeans and ankle boots. Wear it over a tailored dress with heels for a more formal affair. Its versatility allows it to be dressed up or down, making it suitable for everything from a night out on the town to a formal event.

It's essential to consider the choice of colors and how they complement each other. This coat's style can range from classic and timeless to more contemporary and trendy, depending on the specific colors and details.
Are the two colors contrasting or complementary? This can significantly impact the overall aesthetic.
It's up to you, now you can be a designer of your coat!!

Example combinations:
Black coat and red, blue, beige or gray
Red coat and black
Bluecoat and black or red
Beige coat and black
Light gray coat and black, red, blue...please convince me to select your preferred color combo!

IMPORTANT:
-As you choose what color combination to have for your coat, please keep in mind that the order is considered custom. This means that the coat cannot be returned, however, it can be sent back for alterations if needed.

-Remember that Mustard is a custom color. To get this color, you must purchase this product in addition to your coat.

--The belt is not included in the price of the coat but is also one of my designs, so if you are looking to complete your outfit, check it out here.
KEY FEATURES:
- Shoulder pads
- Double colored
- Single-breasted, button closure
- Pocket flaps with button
- Cuffs
- HAVE IN MIND that the buttons from the picture are just a sample; it's possible that the buttons' coat you'll receive to be different from the ones pictured. If you want a specific design for the buttons, please get in touch with me!

MATERIALS & CARE:
Coat fabric -80% Wool; 10% Cashmere; 10% Polyester. This high-quality wool-cashmere fabric is known for its extreme softness, warmth, and lustrous quality, so this pretty little coat can offer you the luxury and comfort you deserve.
Lining fabric - Viscose
We recommend dry cleaning for Astraea's wool coats!
PERSONALIZATION
You can leave us a note in the "Special instructions for seller" field at checkout with customization:
The coat comes with a coat-colored lining. In case you'd like to have a LINING with your preferred color or print, please make sure to purchase this product.
** In case you'd like to have a SPECIAL COLOR for your coat, but you don't find it on the menu, please make sure to purchase this product.
**In case you'd like to have additional BUTTONS that you can change to make your coat in a different style, you can purchase them here.
**Add an edgy touch to your coat with a custom removable HOOD. You can choose between Regular Hood, Hood with Faux Fur Vegan Trim, Large Roomy Hood.
**Match your Astraea coat with an elegant wool bucket HAT to complete your winter outfit
** You're living in an icy place? We've figured it out with the special HEATER that we can attach.
** Bolero??  Why not! you can upgrade your coat with an additional BOLERO.
** You can combine your look with your PUPPY's one. 
**Add wool SLEEVE CUFFS for more style.
**Play around with your coat's versatility by adding FAUX FUR COLLAR & CUFFS
**A final touch to make your look the most stunning in the room. You can add a BELT for more luxury. You can choose between a Wool Cashmere Belt, Tie Belt, Faux Leather Belt or Long Buckle Belt.
** Need a PERFECT FIT- Please choose "Custom Size" from the drop-down menu and provide your measurements in the "Special instructions for seller" field at checkout.
** Need an item sooner than the listed processing time? Add the RUSH MY ORDER product to your cart, and enjoy your coat next week. 
SIZE CHART:
The model in the photo wears size M
Please get your body measurement with this Guide, and find your size in our Size Chart  (last photo)